Wednesday, August 31, 2005
Mayor of New Orleans: Katrina May Have Killed Thousands
The mayor said Wednesday that Hurricane Katrina probably killed thousands of people in New Orleans.
"We know there is a significant number of dead bodies in the water," and others dead in attics, Mayor Ray Nagin said. Asked how many, he said: "Minimum, hundreds. Most likely, thousands."
The frightening prediction came as Army engineers struggled to plug New Orleans' breached levees with giant sandbags and concrete barriers, while authorities drew up plans to move some 25,000 storm refugees out of the city to Houston in a huge bus convoy and all but abandon flooded-out New Orleans.
Gov. Kathleen Blanco said the situation was desperate and there was no choice but to clear out.

"The logistical problems are impossible and we have to evacuate people in shelters," the governor said. "It's becoming untenable. There's no power. It's getting more difficult to get food and water supplies in, just basic essentials."
posted by Cynthia Permalink| (0)|


---------------oOo---------------

The truth is slowing emerging..

This morning on the Matt & Perry show a guest (Dr. Rashawn?) that left New Orleans talked about the conditions of blacks that were left behind to fend for themselves in the storm. Her story corroborated the one that I wrote here.

The media is being insensitive with the coverage of looting from those who were left. For one thing, once the floodwater hit the food, it will be destroyed. Another thing, it is 90+ degrees Fahrenheit in New Orleans and they are without power. Most of the food will spoil. Why shouldn't these poor people eat if they are hungry instead of letting the food go to waste? Are people that callous about black life that they would rather see them die than eat food that would otherwise spoil anyway? Is this a healthy attitude for people who profess to be religious? In addition, everything is insured, the owners will be compensated for their losses. But once these people are dead, how will they be compensated?

What the media is not focusing on is that these people are only trying to survive a bad situation. The truth about New Orleans and black people is unfolding...
posted by Cynthia Permalink| (1)|


---------------oOo---------------

Update on NOL 9th Ward

I really appreciate this email from George Kelly about the rescue efforts in the 9th ward.

The Email:

All day long, rescuers in boats and helicopters pulled out shellshocked and bedraggled flood refugees from rooftops and attics. Lt. Gov. Mitch Landrieu said that 3,000 people have been rescued by boat and air, some placed shivering and wet into helicopter baskets. They were brought by the truckload into shelters, some in wheelchairs and some carrying babies, with stories of survival and of those who didn't make it.

"Oh my God, it was hell," said Kioka Williams, who had to hack through the ceiling of the beauty shop where she worked as floodwaters rose in New Orleans' low-lying Ninth Ward. "We were screaming, hollering, flashing lights. It was complete chaos.

"Frank Mills was in a boarding house in the same neighborhood when water started swirling up toward the ceiling and he fled to the roof. Two elderly residents never made it out, and a third was washed away trying to climb onto the roof.

"He was kind of on the edge of the roof, catching his breath," Mills said. "Next thing I knew, he came floating past me."


posted by Cynthia Permalink| (0)|


---------------oOo---------------

It's Unfortunate But...

The Level of devastation in New Orleans continues to rise - 90% of New Orleans is under water and the water is still rising..
posted by Cynthia Permalink| (0)|


---------------oOo---------------
Tuesday, August 30, 2005
Katrina demolishes coastal communities

The hurricane's 40-mile-wide eye skirted the tiny towns of Venice and Boothville as it made landfill Monday in the marshes between Grand Isle and Empire.

The result was total devastation for the communities near the mouth of Mississippi River.
posted by Cynthia Permalink| (0)|


---------------oOo---------------

The people left behind are Black...

New Orleans is approximately 67% black. I had a conversation with Jada Renee about the situation in New Orleans. On Thursday, August 25th the white hotel owners told their guests they should evacuate New Orleans because they were expecting that Hurricane Katrina would be catastrophic. Many of the black inhabitants of New Orleans were not told until Sunday, August 28th that they should evacuate. Those that could afford to leave left the city. But many people were too poor to leave the area. They either didn't have the money for gas, or their vehicles were too old to even attempt to leave town. So many were stuck in spite of the warning to leave particularly those who live in the 9th ward. The lower 9th was among the very last of the city's neighborhoods to be developed. It is very African American and very poor. The people that were left in this ward didn't even have enough money to go to the superdome to seek shelter from Hurricane Katrina.

In 1965 Hurricane Betsy devastated the 9th ward. In addition, according to Jada, City Officials opened up (blew up) the levees and sacrificed the 9th ward to prevent flooding in other parts of the city. Trying to verify this information has proven very difficult, as it appears someone is trying to cover up this openly racist and hostile act upon the inhabitants of the 9th. As I was speaking to Jada, the inhabitants of the 9th were trapped while the floodwaters have forced them to the rooftops. The communication in the city is non-existence as there are no landlines and the cell phones are not working either. No ones know if these people are being rescued as I write. The order from the Governor to evacuate said they were going to evacuate the people in the superdome and other rescue centers. Have these people been rescued from their rooftops in the 9th ward?

The unfortunate souls that were left behind found themselves in the position that they had to take basic supplies such as water, diapers for their babies, and food because they were trapped in a city with no way out and no other recourse to obtain these supplies. It's hot, there's no electricity. Water is everywhere, but it's contaminated. Everyone should know that New Orleans is a swamp, for these people to venture out to get supplies in the flood waters, they were doing so at their own risk. The waters are full of poisonous snakes, alligators, and not to mention with all of this standing water the mosquitoes pose a serious health hazard because of the West Nile virus.

There are over 1 million people that evacuated New Orleans who are now refugees in other cities and states because of the devastation left behind by Katrina. What will become of the people that went to Baton Rouge, Texas, Mississippi, Alabama, Florida, etc? Baton Rouge is one city that I don't think will be able to accommodate the excess of people. This whole thing was so poorly organized and wreaks of out right racism I feel like screaming…

I am so depress now, because this was my home and people have lost everything...
posted by Cynthia Permalink| (8)|


---------------oOo---------------

LOUISIANA GOVERNOR ORDERS COMPLETE EVACUATION OF NEW ORLEANS AS WATER CONTINUES TO RISE

I knew this story was not been told properly. If you've ever been to Louisiana and observed the political, economical, social, and environmental climate you would have known too that New Orleans was in trouble behind this storm and some residents were being affected more than others...

With water rising in the streets of New Orleans and conditions rapidly deteriorating, Gov. Kathleen Blanco said Tuesday that the tens of thousands of people now huddled in the Superdome and other rescue centers would have to be evacuated.

"The situation is untenable," Blanco said at a news conference. "It's just heartbreaking."

What about all the people that are trapped in Ward 9 that were too poor to even get to the Superdome?


posted by Cynthia Permalink| (6)|


---------------oOo---------------

Black victims in New Orleans

I followed the hurricane closely and I know the devastation is worst than what they are saying on the news. I just received an email from a friend and it is quite disturbing. I called Jada and confirmed that the email is legitimate. I sent a copy of the email to Roland Martin. I also called and was told he just heard about the situation in New Orleans and he is on the story. Tonight I will call John Dey from WVON to let him know what is happening in New Orleans. In the meantime, I will post this email and a follow up post will come after I do more research on some things to get my head around the situation.

The email:

I just heard from a friend who was able to get out of New Orleans. She wanted me to contact anyone in the Black media to let them know that there are folks dying and trapped in the 9th ward, and other Black areas. She says that the press has presented the news as if folks would not leave. She says that they did not get the news to leave, and most people did not have the transportaion to leave. She found out about the evacuation when she saw a long line at the gas stationa and thought there might be a gas giveaway. That's when she heard that she had very little time to move quickly. The damn is breaking in more places, 80% of the city is under water. People are looting for basic needs, and they have no place to go, and no way to get anywhere.

You can contact her directly for more info on her cell. Her name is Jada Renee, she can be reached at: 404 932 5760.
posted by Cynthia Permalink| (0)|


---------------oOo---------------

South Louisiana - things that are not been reported fully by the news

On Sunday while watching the weather channel a man from Grand Isle refused to evacuate. He said among other things, when its time to die, you will die, so I'm not leaving. This morning I heard that five people remained in Grand Isle in spite of the evacuation order and the authorities don't know the status of these individuals because the road leading to Grand Isle is under 20 feet of water. If Grand Isle is under 20 feet of water, the place where my family lives is also under water. I've been looking for information on this region since most of the news coverage's is focusing on New Orleans because I had a feeling the devastation on the bayou is far worst than anything they are showing in New Orleans.

One thing to note, if Grand Isle is underneath water, this will definitely have an impact upon oil production and we will be feeling the effects with higher gasoline prices. It would be nice if Bush allowed the tapping of the oil reserves to help alleviate some of the costs that will be passed to the American public. Or maybe he could take Chavez up on his offer to help needy Americans with cheap supplies of gasoline.

Although most of the reports coming out of New Orleans say that hurricane Katrina spared it of its full fury, the truth of the matter is that New Orleans is still in serious trouble since according to the Mayor 80% of the city has flooded. From what I understand about New Orleans and flooding, the water probably will have to be pumped out of the city since it is below sea level.

Another thing to note is that this region is built upon a swamp so the inhabitants although they may have been spared the full fury of Katrina they still have to contend with poisonous water snakes, alligators, mosquitoes, etc, once they return to their homes whenever that may be because these things have been displaced by the flooding.
posted by Cynthia Permalink| (0)|


---------------oOo---------------

Iraq Finishes New Constitution

Below are excerpts from the Guardian and AfterDowningStreet.org about the new Iraqi consitution just to show that I'm not the only one who thinks this new Islamic state of Iraqi is problematic.

Guardian.co.uk
Thousands of Sunni demonstrators rallied in Saddam Hussein's hometown of Tikrit on Monday to denounce Iraq's new constitution a day after negotiators finished the new charter without the endorsement of Sunni Arabs.


AfterDowningStreet.org
What Noble Cause Did Casey Sheehan Die For?
Casey Died for an Islamic State Controlled by Iran

"Islam is the official religion of the state and is a basic source of legislation. No law can be passed that contradicts the undisputed rules of Islam."- Iraqi Constitution supported by Iran-backed Shiites and the Bush Administration (but opposed by Sunni leaders)

"Fortunately, after years of effort and expectations in Iraq, an Islamic state has come to power and the constitution has been established on the basis of Islamic precepts. We must congratulate the Iraqi people and authorities for this victory."- Ayatollah Ahmad Jannati, head of Iran's powerful ultra-conservative Guardian Council

"This is the future of the new Iraqi government - it will be in the hands of the clerics. I wanted Iraqi women to be free, to be able to talk freely and to able to move around. I am not going to stay here."- Dr. Raja Kuzai, an obstetrician and secular Shiite member of the Assembly who met President Bush in the White House in November 2003.
posted by Cynthia Permalink| (0)|


---------------oOo---------------
Monday, August 29, 2005
Pat Robertson in the news...

Pat Robertson is the head of the Christian Broadcasting Network and founder of the Regent University School of Law. This school is distinctive among law schools because of the integration of Christian Principles into their curriculum.

Although Pat Robertson professes to be a Christian, he called for the assassination of Hugo Chavez, President of Venezuela. The U.S. tried to dismiss the call and Robertson tried to take it back, but once those words are uttered there is no going back. What would make an alleged man of God, utter such words and want to topple a democratically elected government? According to Alex Keyssar, Robertson's words to assassinate Chavez are because of his anticapitalist views and his resistance to American domination of the western hemisphere. Keyssary continues, to advocate removal of a foreign leader (even peaceably) for such reasons expresses a crude political and economic agenda, not a moral one: Robertson's statement vibrated with Cold War hostility to the political left, while also voicing the fantasy that the left is somehow allied to Islamic fundamentalism and terrorists. Is this what the Christian right is becoming -- very right and not very Christian?

Pat Robertson also supported Charles Taylor of Liberia and criticized President Bush's call for Taylor to step down. He went on to praise Taylor as a "fellow Baptist," and accused the State Department of being the real cause of Liberia's problems. Charles Taylor among other things is infamously known for backing the rebels in Sierra Leone whose teenage soldiers were guilty of extreme brutality. Some believe that Robertson's support of Taylor was because he invested in the diamond mines controlled by Taylor in Liberia.

John W. Dean believes if Pat Robertson had been a Democrat, he'd probably be hiring a criminal attorney right about now because he thinks Robertson's call for the assassination of a democratically elected President is a crime. The question then becomes did Pat Robertson commit a crime for calling for the assassination of a foreign leader?

I wonder what the students of Regent University School of Law think of Robertson's latest outburst about the assassination of Hugo Chavez by the U.S. government? Does his views reflect those of the Christian right?

So far, I haven't seen any conservative sites, moderates or otherwise, condemn this barbaric statement.
posted by Cynthia Permalink| (13)|


---------------oOo---------------

Hurricane Could Turn City into Toxic Cesspool

Athough hurricane Katrina didn't deliver a direct hit on New Orleans, there are still fears that the storm could turn the city into a vast cesspool tainted with toxic chemicals, human waste and even coffins released by floodwaters from the city's legendary cemeteries.
posted by Cynthia Permalink| (0)|


---------------oOo---------------

Chicago Public Schools (CPS)

By now most schools have started. However, CPS push their starting date back to after Labor Day because most children wouldn't show up to school until after Labor Day anyway. I was told that School officials use to go door-to-door reminding people that school is in session. To accommodate these parents and students, they push the starting date back. I think the whole issue says something about the commitment of the parents to the education of their children. No wonder there's problems in inner city schools.
posted by Cynthia Permalink| (1)|


---------------oOo---------------

Chicago Dirty Politics

Scandals put City Hall in a spin

If Mayor Daley's revolving door takes any more turns, it might go into permanent spin mode.

Thirteen Daley Cabinet members have either left or been shown the door in recent months in a corruption-induced housecleaning by chief of staff Ron Huberman.

At last count, no fewer than 10 city department heads had the word "acting" in front of their titles.

The mayor has an acting inspector general, acting directors of personnel and intergovernmental affairs and acting commissioners of three departments at the center of the Hired Truck scandal: Streets and Sanitation, Water Management and Transportation.

There are also acting commissioners of the Health, Buildings and Construction and Permits departments.
posted by Cynthia Permalink| (0)|


---------------oOo---------------
HURRICANE KATRINA MAKES LANDFALL NEAR GRAND ISLE, LOUISIANA
Grand Isle is approximately 30 miles from where my family lives...
With the continued erosion of Louisiana's wetland, I don't know how the government could have allowed so many people to remain in New Orleans. By the year 2050, it is estimated that nearly 1,000 sq. miles of Louisiana's wetlands--an area nearly the size of Rhode Island will become open water. It is common knowledge that the wetland functions among other things as a protective buffer against flooding by storm surges during hurricanes. Because of this, all of the cities/towns along the path of Katrina is vulnerable. If the U.S. could spend billions of dollars on an unjust and immoral war, why couldn't it assist with the evacuation of all the people who couldn't for whatever reason afford to evacuate the area? The superdome will not be able to stop floodwater. Although Katrina was downgraded to a category 4 hurricane, the damage can still be catastrophic because it is the increase in water that poses the biggest threat.
Katrina Charges Toward New Orleans
Hurricane Katrina at a Glance
Hurricane Could Leave 1 Million Homeless
Post Your Thoughts
New Orleans Hurricane Could Spell Disaster
Track Katrina
Hurricane Katrina
Katrina Nearing Oil, Refinery Operations
Superdome Shelters New Orleans' Residents
French Quarter Dead As Katrina Approaches
posted by Cynthia Permalink| (1)|


---------------oOo---------------
Sunday, August 28, 2005
Category 5 Katrina Threatens New Orleans With Catastrophe

I was born in Louisiana and scientists have been predicting the storm of all storm that will eventually completely submerge New Orleans under water since it sits and average of 6 feet below sea level. I hope this is not that storm!!!

A map of LA to show where the hurricane is expected to hit (from Morgan City east to the Alabama-Florida state line).




New Orleans is protected by a system of levees and pumps that could be overwhelmed by the storm. There are fears that walls of water from the storm surge will swamp New Orleans and the low-lying parishes around it.

Excerpt:

Katrina currently has sustained winds of 160 mph and is expected to arrive along the Mississippi and Louisiana coast -- an area central to U.S. energy production and transport -- Monday at dawn. The mayor of New Orleans has issued a mandatory evacuation order for the city of 500,000 people.

New Orleans mayor Ray Nagin described the storm as potentially a "once-in-a-lifetime event" for the city, most of which sits below sea level. New Orleans is protected by levees from the surrounding waters of Lake Pontchartrain and the Mississippi River, but they could be breached by a possible 28-foot storm surge and up to 15 inches or rain, forecasters warned.

Bush declared Louisiana and Missippi disaster areas, a status that allows for more concerted federal cooperation with local aid authorities.
posted by Cynthia Permalink| (0)|


---------------oOo---------------
Friday, August 26, 2005
Free Tickets from WVON

This morning I took a friend to pick up some tickets for the A. Philip Randolph Museum that was won from WVON. While there another lady had won some tickets, but when they brought out the tickets it was for the Neo Soul Explosion concert that is being held at the Dusable Museum of African American History tonight. When the receptionist tried to give the tickets to the woman, she said I won tickets to the 16th Annual African Festival of the Arts and I don't want those Neo Soul tickets. When the reception came back after looking for the right tickets for this woman, I asked could I have the tickets she didn't want. She said sure. So now I am going to the last Neo Soul Explosion concert tonight. I am so happy. Yea for me...

Changing subjects - while at WVON, I saw Matt Magill, who incidentally gave me a second look. I have a serious crush on this man. He is too cute. And this is coming from a woman who is generally not attracted to light skin men!!!
posted by Cynthia Permalink| (3)|


---------------oOo---------------

Google - One of my favorite search engines

I saw this while visiting Michael's blog.

If you Go to Google.

1. Type in the word. . .FAILURE
2. Hit the "I'm Feeling Lucky" key
3. You will get this site...

I wonder if he knows.
posted by Cynthia Permalink| (5)|


---------------oOo---------------

Advertising trains people to behave like lab rats

This is how the rich is driving morality around the world. Many people in this society are blaming certain groups for behaving in what they term immoral ways. Instead of focusing their attention on the culprits, the rich with their liberal economic policies (Republicans and Democrats) dictating the morality of this society, they are blaming the victims for everything. The only way the morality in America or anywhere else will improve, we must address the root of the problem (the effects that marketing and advertising have on the psyche of its intended victims). The blaming of the victims must stop.

Excerpt:

You train them by flashing positive imagery, usually involving sex, and then quickly interweaving images about your own products. If this is done back and forth quickly enough, it creates an almost subliminal effect. It's sex -- and then, soda. Sex, soda, sex, soda. Soon afterwards, when people think about soda, they get the same feeling as if they were thinking about sex. When they're standing in front of that vending machine, they're not consciously thinking sex, but they're feeling sex and they're pressing the button to get the same brain chemistry effect they were taught to experience by the advertising.

That's how advertising really works, and that's what will almost never admit to you. Why do you think there's so much sex in advertising? Sex sells. Everybody knows that, but few people are willing to admit the process by which sex sells. It's a process of association. It's pure Pavlovian psychology -- the same thing as teaching a dog to drool when he hears a bell or teaching a lab rat to press a lever in exchange for food. You can teach to press buttons, spend money, buy a certain clothing label or wear a certain brand of cosmetics. All you have to do is make sure that it is associated with sex. Link
posted by Cynthia Permalink| (5)|


---------------oOo---------------

Where Are The Black Cindy Sheehans?

By Earl Ofari Hutchinson, AlterNet.

The moving sight of aggrieved mother Cindy Sheehan camped out in front of President Bush's ranch touched a national nerve. Sheehan is a white mom that lost a son. And who wouldn't be compassionate and sensitive to her loss? But there are plenty of black moms that have lost sons in Iraq, and few have followed Sheehan's example and publicly and dramatically raised their voices in protest.



Should African Americans follow whites like the good little drones that this article is suggesting?


posted by Cynthia Permalink| (3)|


---------------oOo---------------
Thursday, August 25, 2005
Race Disparity Seen During Traffic Stops

Black, Hispanic and white motorists are equally likely to be pulled over by police, but blacks and Hispanics are much more likely to be searched, handcuffed, arrested and subjected to force or the threat of it, a Justice Department study has found. Is anyone surprised by this study?

The study was completed last April and posted on the agency's Web site after Bush administration officials disagreed over whether a press release should mention the racial disparities.
According to Conyers, the Department insisted that the factual conclusions regarding evidence of profiling be deleted.

posted by Cynthia Permalink| (2)|


---------------oOo---------------

"Anti-Aging Hormone" Found in Mice; May Help Humans

Researchers have dramatically increased the life spans of mice by genetically engineering them to overproduce a protein called klotho. Not surprisingly, the discovery has spurred speculation that klotho could help humans live longer.

The gene regulates production of klotho protein, which the study team says works like an anti-aging hormone. Klotho is involved in the suppression of insulin-signaling pathways—a process that has been shown to increase the life spans of worms and flies. I wonder how the suppression of the insulin-signaling pathways would work out in a society that eats too much of all the wrong foods.

Humans have a klotho gene almost identical to that in mice. Studies have shown that natural alterations of the klotho gene in both humans and mice can cause increased aging-related problems, such as muscular atrophy and hardening of the arteries.
posted by Cynthia Permalink| (2)|


---------------oOo---------------

The Breast Milk of Oregon Women is Contaminated With a High Level of Toxic Flame Retardants

A new analysis by the California Environmental Protection Agency and the Seattle-based research group Northwest Environment Watch compared the PBDE levels in the breast milk of 40 Pacific Northwest mothers with the levels of another toxin and chemical cousin, PCB.
posted by Cynthia Permalink| (0)|


---------------oOo---------------
Wednesday, August 24, 2005
More dirty tricks are expected from the Republicans in the next elections...
Excerpt from Conyers' blog in response to Paul Krugman's article in the New York Times - What They Did Last Fall "There was at least as much electoral malfeasance in 2004 as there was in 2000, even if it didn't change the outcome. And the next election may be worse." Indeed, I think we all agree that, when it comes to electoral dirty tricks, Republican partisans continue to outdo themselves election after election. The things Ken Blackwell did in Ohio were so blatant and, in many instances, so overt and public, that he made Katherine Harris seem shy and retiring by comparison. "Our current political leaders would suffer greatly if either house of Congress changed hands in 2006, or if the presidency changed hands in 2008. The lids would come off all the simmering scandals, from the selling of the Iraq war to profiteering by politically connected companies. The Republicans will be strongly tempted to make sure that they win those elections by any means necessary. And everything we've seen suggests that they will give in to that temptation.
"Republicans find themselves with plunging poll numbers and an uncertain electoral landscape in 2006. Failure for them in their drive to keep control of the House of Representatives, and one party rule in Washington, means that, if reelected, I will become Chairman of the House Judiciary Committee, Henry Waxman will become Chairman of the Government Reform Committee, Louise Slaughter will become Chair of the Rules Committee, Charlie Rangel will Chair the Ways and Means Committee, and Nancy Pelosi will be the first woman to be Speaker of the House. That means accountability for this Administration with a stiff dose of the truth. Make no mistake about it. Desperate times will lead to desperate tactics and partisans supporting Republican candidates will pull out every dirty trick in the book to stop us from bringing checks and balances back to the federal government.
posted by Cynthia Permalink| (2)|


---------------oOo---------------
Tuesday, August 23, 2005
Grasping the Depth of Time as a First Step in Understanding Evolution



Although

this article

is talking about humans grasping the concept of time, I like this article because of the last paragraph reproduced below. This man is echoing my thoughts...

I was raised as a Christian, I no longer feel comfortable accepting this belief system as the absolute truth on any scale. I do realize that as long as you have faith in something, your mind doesn't care what that ism is – it is powerful enough to make your beliefs into a reality. My only problem with religion is that whatever you believe in dictates the limits of your thoughts. If you know the person's belief system, they can be easily manipulated because their religion will not allow them to think outside of the parameters of that said religion. Who ever grasp this simple concept will be able to manipulate the intimate details of anybody's mind. This is what George Bush did and this is his claim to fame. He understands the connections between belief systems and the limitation those beliefs place on the ability of the mind to respond to external stimuli thus allowing him to control the minds of others.

Excerpt:

The essential, but often well-disguised, purpose of intelligent design, is to preserve the myth of a separate, divine creation for humans in the belief that only that can explain who we are. But there is a destructive hubris, a fearful arrogance, in that myth. It sets us apart from nature, except to dominate it. It misses both the grace and the moral depth of knowing that humans have only the same stake, the same right, in the Earth as every other creature that has ever lived here. There is a righteousness - a responsibility - in the deep, ancestral origins we share with all of life.
posted by Cynthia Permalink| (1)|


---------------oOo---------------

Is this the noble cause that the American soldiers died for?



Iraqi - no law can contradict the principles of Islam...



Iraq's Shiite Muslim majority and its Kurdish allies moved Monday toward fundamentally reshaping their nation, submitting a proposed constitution that would create a loose federation with strongly Islamic national laws.

By now we all know that Islamic laws and a Democracy is an oxymoron. So much for "Democracy" and Bush's noble cause.


posted by Cynthia Permalink| (15)|


---------------oOo---------------
Monday, August 22, 2005
Being Liberal Now Means Being African American

New research done by the Bay Area Center for Voting Research (BACVR) reveals who the real liberals in American are and the answer is not the tree-hugging, ponytail wearing ex-hippies you might expect. Instead, the new face of American liberalism is of a decidedly different hue. The nation's remaining liberals are overwhelming African Americans.

The BACVR study that ranks the political ideology of every major city in the country shows that cities with large black populations dominate the list of liberal communities. The research finds that Detroit is the most liberal city in the United States and has one of the highest concentrations of African American residents of any major city. Over 81 percent of the population in Detroit is African American, compared to the national average of 12.3 percent. In fact, the average percentage of African American residents in the 25 most liberal cities in the country is 40.3 percent, more than three times the national rate.

The great political divide in America today is not red vs. blue, north vs. south, coastal vs. interior, or even rich vs. poor—it is now clearly black vs. white.
Full Link

It is a given that there is a racial divide in America (black vs. white) and this racial divide is fueling American politics. African Americans are caught in the middle of a little cat and mouse game with the Republicans and the Democrats. The Democrats give a little in the form of social programs, the Republicans abolish those programs, and most of white Americans agree with this position. The bottom line is that we never get ahead playing a game by somebody else's rules. It's crystal clear for the most part; this government and its majority population have no intention on making us whole. The questions then become; 1) why do we allow ourselves to be used by either party in this fashion and 2) why should we allow someone else to define who and what we are? A new strategy is needed.



This study is useless, an utter waste of time and money and hasn't shed any new light on the state of affairs in America. Can someone tell me when have American politics been any other thing, except black and white? The way things play out, does anyone else matters?


posted by Cynthia Permalink| (3)|


---------------oOo---------------

The wealth of the west was built on Africa's exploitation

Britain has never faced up to the dark side of its imperial historyBritain was the principal slaving nation of the modern world. In The Empire Pays Back, a documentary broadcast by Channel 4 on Monday, Robert Beckford called on the British to take stock of this past.




Why, he asked, had Britain made no apology for African slavery, as it had done for the Irish potato famine?


Why was there no substantial public monument of national contrition equivalent to Berlin's Holocaust Museum?


Why, most crucially, was there no recognition of how wealth extracted from Africa and Africans made possible the vigour and prosperity of modern Britain?


Was there not a case for Britain to pay reparations to the descendants of African slaves?


These are timely questions in a summer in which Blair and Bush, their hands still wet with Iraqi blood, sought to rebrand themselves as the saviours of Africa. Full Link



So much hypocrisy on all fronts...



posted by Cynthia Permalink| (3)|


---------------oOo---------------

TruthOut interviewed Cindy Sheehan - Dispelling the lies and hypocrisy of MSM

Hypocrites and Liars

The media are wrong...

Contrary to what the main stream media thinks, I did not just fall off a pumpkin truck in Crawford, Tx. on that scorchingly hot day two weeks ago. I have been writing, speaking, testifying in front of Congressional committees, lobbying Congress, and doing interviews for over a year now. I have been pretty well known in the progressive, peace community and I had many, many supporters before I even left California. The people who supported me did so because they know that I uncompromisingly tell the truth about this war. I have stood up and said: "My son died for NOTHING, and George Bush and his evil cabal and their reckless policies killed him. My son was sent to fight in a war that had no basis in reality and was killed for it." I have never said "pretty please" or "thank you." I have never said anything wishy-washy like he uses "Patriotic Rhetoric." I say my son died for LIES.

George Bush LIED to us and he knew he was LYING. The Downing Street Memos dated 23 July, 2002 prove that he knew that Saddam didn't have WMD's or any ties to Al Qaeda. I believe that George lied and he knew he was lying. He didn't use patriotic rhetoric. He lied and made us afraid of ghosts that weren't there. Now he is using patriotic rhetoric to keep the US military presence in Iraq: Patriotic rhetoric that is based on greed and nothing else.

Now I am being vilified and dragged through the mud by the righties and so-called "fair and balanced" main stream media
posted by Cynthia Permalink| (3)|


---------------oOo---------------
Sunday, August 21, 2005
Did the Democrats really want to win the past two elections? I have my doubts...
Based upon all the evidence, I'm not sure key people in the Democratic Party were even trying to win the past two elections. For this reason, we need a viable third party. And now so many of them are voting with the Republicans on key issues further confirm my suspicions.
Two different news media consortiums reviewed Florida's ballots; both found that a full manual recount would have given the election to Mr. Gore. Paul Krugman notes this was true despite a host of efforts by state and local officials to suppress likely Gore votes, most notably Ms. Harris's "felon purge," which disenfranchised large numbers of valid voters.
But few Americans have heard these facts. Perhaps journalists have felt that it would be divisive to cast doubt on the Bush administration's legitimacy. If so, their tender concern for the nation's feelings has gone for naught: Cindy Sheehan's supporters are camped in Crawford, and America is more bitterly divided than ever.
posted by Cynthia Permalink| (0)|


---------------oOo---------------
The Bush administration's Top 40 Lies about war and terrorism
posted by Cynthia Permalink| (1)|


---------------oOo---------------
Saturday, August 20, 2005
Interesting Concept - Research shows a link between conservative politics & masculinity issues
Did You Know—Conservative Men Doubt their Masculinity?
On August 19th the headline in my local newspaper the Ithaca Journal declared, "Threatened men more pro war, SUVs." The reporter asked the question, "What makes a macho man?" and then replied, "A simple threat to his masculinity could to the trick, according to Cornell University sociologist Robb Willer."
Doctoral candidate Willer used science to prove that male feelings of inferiority lead to Conservative political choices. He presented his findings this past week at the American Sociological Association meetings in Philadelphia. Continue...

This is not the first time I heard that inferiority complexes drives many negative things in this society.
posted by Cynthia Permalink| (6)|


---------------oOo---------------
Friday, August 19, 2005
Religion Gone Awry

It appears in most places where Islamic laws are implemented, common sense disappears. I just want to know why? Someone once said, you can determine the integrity of a nation by how they treat their women.



Nigeria state segregates travel



The authorities in the northern Nigerian state of Kano have imposed a ban on Muslim men and women travelling together on public transport.

They say the ban is in accordance with Sharia law.

posted by Cynthia Permalink| (2)|


---------------oOo---------------

Raw Reform - A diet that works naturally...

I'm really excited to find this article about someone else who went on a raw food diet to lose weight. Prior to the diet, the person weighed approximately 279 pounds and now they are clocking in at a healthy 138 pounds.

Prior to the summer, I went on a raw food diet and although I wasn't obese, I lost a total of 17 pounds (my weight immediately prior to the diet change was 146 and now I weigh 129). I also discovered that your body will lose weight until it reaches its ideal weight for your body frame in which case, you will no longer lose anymore.

I've decided to incorporate this mostly raw food diet into my life permanently 1) to maintain health and 2) to prevent unwanted pounds. Eating this way takes discipline, but if you can overcome the first two weeks, the rest will be a cakewalk. Good luck to anyone that is brave enough to try this because it will separate the weak from the strong. The best part of this diet for me is that it took less food to fill me up after my body became acclimated and the frequency that I wanted to eat also decreased.
posted by Cynthia Permalink| (2)|


---------------oOo---------------
Conservationist Plan Would Give Lions, Elephants a Home on the Range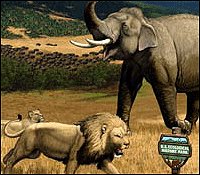 People hoping to glimpse lions, cheetahs, elephants and other megafauna in their natural environment must journey to Africa's wildlife reserves. But if one group of ecologists and conservationists gets its way, safari-goers could soon head for the Great Plains of the U.S. instead.



What a wonderful idea...


posted by Cynthia Permalink| (0)|


---------------oOo---------------
Thursday, August 18, 2005
Who Are the Real Puppets?



This is an interesting article written by

Scott Galindez

dispelling lies coming from main stream media (NBC, FOX, CBS, etc.) about Cindy Sheehan claiming that she is a puppet of the left. What's wrong with these people, why all the lies

?

Scott says the allegations that the left is exploiting Cindy couldn't be further from the truth. I see millions of people following Cindy, not the other way around. I got an e-mail from Cindy that she was going to go to Crawford, not from MoveOn.

So, then the real question here is who is behind these allegations? Who are the real puppets here? Continue
posted by Cynthia Permalink| (0)|


---------------oOo---------------
U.S. Policy on 'Axis of Evil' Suffers Spate Of Setbacks
President Bush's campaign against what he once termed the "axis of evil" has suffered reverses on all three fronts in recent days that underscore the profound challenges confronting him 3 1/2 years after he vowed to take action.
First, multilateral talks orchestrated by the United States to pressure North Korea to give up nuclear weapons adjourned last week after 13 days without agreement.
Second, Iran restarted its program to convert uranium, in defiance of the United States and Europe.
Third, negotiators in Iraq failed to draft a new constitution by Monday's deadline amid an unrelenting guerrilla war against U.S. forces.
So, what have America gained from the war and the lost of lives?
posted by Cynthia Permalink| (0)|


---------------oOo---------------

This is an Interesting Development - Bad Iraq News Worries Some in G.O.P. on '06

Cindy Sheehan is actually having an effect on the perception of Americans about the unholy and ungodly war on Iraq. They think it may determine the outcome of the elections next year. Only time will tell if this prediction is correct.

Excerpt:

A stream of bad news out of Iraq, echoed at home by polls that show growing impatience with the war and rising disapproval of President Bush's Iraq policies, is stirring political concern in Republican circles, party officials said Wednesday.

Republicans said a convergence of events - including the protests inspired by the mother of a slain American soldier outside Mr. Bush's ranch in Texas, the missed deadline to draft an Iraqi Constitution and the spike in casualties among reservists - was creating what they said could be a significant and lasting shift in public attitude against the war.

Full Link
posted by Cynthia Permalink| (0)|


---------------oOo---------------
Wednesday, August 17, 2005
Watching America - U.S. Officials Uncomfortable With 'Clout of American Jews'

Excerpt:

The author, a member of Israel's Parliament, complains that senior State Department officials, some generals in the Pentagon and FBI security types … are uncomfortable with the economic power, media presence, academic importance and political clout of American Jews.

We have never had a friendlier president in the White House than George W. Bush, except perhaps Bill Clinton. There has never been as friendly a vice president as Dick Cheney since Hubert Humphrey. And since George Schultz there has never been as friendly a secretary of state as Condoleezza Rice.

It is not the leadership that is calling the shots here, but the middle-level bureaucracy: senior State Department officials, some generals in the Pentagon and FBI security types. They are not anti-Semites of the classical model, but they are uncomfortable with the economic power, media presence, academic importance and political clout of American Jews. And they believe the Jewish neoconservatives – who bear-hug the Bush administration – are pushing America into a bloody conflict with the Muslim world for the benefit of Israel, among other reasons.

More
posted by Cynthia Permalink| (0)|


---------------oOo---------------

An interesting email - Are these two incidences a coincidence?

Looking back on the attacks on 9/11, it has become common knowledge that the U.S. Government was engaged in various war games that morning, one of which involved, unbelievably, an airliner being flown into a building. Labeled Vigilant Warrior and Vigilant Guardian among others, these war games may have been responsible for the lack of air response by the FAA and Norad. Here is a hyperlink to a news article on this topic.

Coincidentally, the London attacks on July 7 occurred at precisely the same time as "bombing exercises" were underway in the London Subway tunnels. Here is a link to more information on this topic.

The odds of identical terrorism drills being underway at the same time as the actual attacks on 9/11 and 7/7 are simply unfathomable. These drills are merely smoke screens to obfuscate the actual attacks, there is no other logical conclusion that can be made. In another more shocking coincidence, President Bush attempted to prevent any serious investigation into the 9/11 attacks, as did Tony Blair after the July 7th attacks. More information on both of these topics can be found here and here.
posted by Cynthia Permalink| (2)|


---------------oOo---------------

No Paper Trail Left Behind:The Theft of the 2004 Presidential Election



I found this piece reading Cyrus blog, which was taken from Project Censored site

Excerpt:

In order to believe that George Bush won the November 2, 2004 presidential election, you must also believe all of the following extremely improbable or outright impossible things.

1) A big turnout and a highly energized and motivated electorate favored the GOP instead of the Democrats for the first time in history.

2) Even though first-time voters, lapsed voters (those who didn't vote in 2000), and undecideds went for John Kerry by big margins, and Bush lost people who voted for him in the cliffhanger 2000 election, Bush still received a 3.5 million vote surplus nationally.

3) The fact that Bush far exceeded the 85% of registered Florida Republicans' votes that he got in 2000, receiving in 2004 more than 100% of the registered Republican votes in 47 out of 67 Florida counties, 200% of registered Republicans in 15 counties, and over 300% of registered Republicans in 4 counties, merely shows Floridians' enthusiasm for Bush. He managed to do this despite the fact that his share of the crossover votes by registered Democrats in Florida did not increase over 2000 and he lost ground among registered Independents, dropping 15 points.

Continue reading
posted by Cynthia Permalink| (2)|


---------------oOo---------------
Tuesday, August 16, 2005
Crack-Cocaine Traffic Is On The Rise
July of this year, I attended the African Caribbean Festival of Life and one of the entertainers, Mutabaruka, who incidentally is one of my all time favorite entertainers ever since I saw him in Sankofa, said that the U.S. government came and sprayed the Ganga plants. Not only did the U.S. spray the Ganga, they also sprayed the mangoes, coconuts, and the bananas, which are all part of Jamaica's main food and cash crops. Now we all know how Jamaicans feel about their Ganga and how annoying they can be smoking this stuff in the open when you go to see Caribbean groups at the festivals, but this is no reason to kill the crops that they use for trade and for food. Something is just inherently wrong with this. It is just outright evil.
Anyway, according to Mutabaruka, the power that be saw fit to replace the marijuana smoking with crack cocaine and guns. So now you have many people who have gone from being peaceful and lackadaisical to gun toting junkies killing anything in site. And now the threat of crack cocaine is turning up in West Africa as drug cartels from South America set up new shipping bases in the region.
The United Nations experts said the dealers are lured by lax policing in an otherwise unstable region and the presence of small, underground criminal groups. I just wonder if this is the truth because I have a feeling there is more to this story than what is being told. It's so sad to see more instability in this region. Something has to give.
posted by Cynthia Permalink| (1)|


---------------oOo---------------
An Interesting And Truthful Quote
Words worth repeating by --Prof. As'ad Abu Khalil, UC Berkeley

"Those two groups are in very high demand in US media and popular cultures:African-Americans who are willing to say that there is no racism in the US, and who blame African-Americans for the consequences of institutional inequality and racism; and the second group are those Muslims who are willing to blame Islam and all Muslims (and even Falafil) for the violent deeds of individual Muslims. I mean it.
If you are either African-Americanor Muslim try to send an op-ed piece (including what I have said) and you will be instantly published. Try it. You may also be in top demand if you happen to belong to both groups simultaneously. In that case, an avenue will be named after you.
posted by Cynthia Permalink| (2)|


---------------oOo---------------

A Bad Shift for the Court

Raspberry questions whether the American people understand the danger of letting the Supreme Court become, in essence, a partisan of one side in a closely divided nation.
posted by Cynthia Permalink| (2)|


---------------oOo---------------

Do species "learn" their way into existence?

Charles Darwin's account of how new species evolve put randomness at the heart of the process. Creatures randomly change through mutations, he said, gradually altering whole populations, and eventually creating new species.

But researchers lately have begun considering some slightly different accounts, which strip a bit of control from such blindly random forces.

No, these ideas have nothing to do with "intelligent design"

More
posted by Cynthia Permalink| (0)|


---------------oOo---------------
Monday, August 15, 2005
The Evil-Doers - How Far Will They Go?

The topic for discussion today for members of the Progressive Blogger Union was taken from "The Cassandra Complex – Part 2".

Excerpt:

1. It would almost appear that the Bush administration is either inviting attack – or controlling it – to make it meet their own needs.

2. While it appears that this administration is politically ill, we must all force ourselves to consider the possibility that another "catalyzing event" might be just the medicine that the neo-conservative doctors are ordering up.



To make this simple, who am I kidding nothing I believe or do is simple. It seems like there is enough evidence from the

first attack (9/11)

to say that the Bush administration may either be inviting another attack or they may try and control another attack to meet their own needs.





Even when I saw the world trade center collapse, I had a hard time believing Osama Bin Laden can circumvent the security in the U.S. with all the technology at America's disposal. Because of this, it never made sense that a desert dweller would be able to coordinate a strike such as this so then the question becomes - who coordinated this event?



Upon further investigation, I immediately discovered that it is theoretically impossible that jet fuel, by itself, could raise the temperature of the floor of the world trade center more than 257° C (495° F). This temperature is nowhere near high enough to even begin to explain how the Twin Towers could have collapsed. The first critical temperature where steel loses about half its integrity is 600° C (1,100° F). So where did the media get the quotes that the jet fuel burned at 1500° C? This was a red flag and it warrants further investigation. There are other inconsistencies and this is why Cynthia McKinney reopened the 9/11 hearings (

Atlanta Journal-Constitution

) to get answers to some of these questions or inconsistencies that were spread by the media.





So, how far do I think the "Evil Doers" will go? They can go only as far as America let them. I believe any attack that will occur on American soil will be carried out and/or orchestrated by Americans to fit the needs of whomever is orchestrating those attacks for reasons best known to them.


posted by Cynthia Permalink| (4)|


---------------oOo---------------
How the White House and Congress Are Establishing an Imperial Presidency

King Bush!

Analyses of pending and expected antiregulatory proposals have revealed the usual themes from years past - net benefits, regulatory budgeting, sunsets, and so on. An unexpected theme has also been emerging, which is worth noting for anyone committed to a progressive vision of an open, accountable government responsive to public needs: a trend in favor of concentrating power in the White House free of democratic accountability. In short, the creation of an imperial presidency.

Read on



posted by Cynthia Permalink| (0)|


---------------oOo---------------

March Of The Penguins

I saw the documentary March Of The Penguins this past weekend and it is a beautiful story of love, family, and survival during the harshest of conditions. These animals take turn in assuring the survival of their offspring. I'm curious to know why or how these Penguins know how to survive in weather that the average animal can't survive in and yet they survive whether it's instinctively or by some type of higher order thinking and people who are suppose to have this higher order thinking appear to have lost these basic of instincts and now relies solely on some type of holy book that for all intent and purpose is outdated and simplistically childish. More shocking, many people believe they need an interpreter to guide them on the path of righteousness using this outdated material.

Have we lost our basic instincts because of our belief system? You have primitive tribes who instinctively knew that the tsunami was coming and escaped danger along with other animals, and they don't follow a so-called holy book that was mandated from God. On the other hand, those who followed some type of organized religion perished in the wake of the tsunami, in spite of their religious beliefs. Can we conclude that these people were simply not in tune with nature or their God and that when faced in similar conditions most of us will be unprepared because we have lost the ability to understand God and Nature? Have we de-evolved as a race because of our beliefs in these organized religions?

I asked these questions because Beloved had two posts, the first was dealing with the Proverbs' 31 woman (what constitute a godly woman) and the second was dealing with the Proverbs' 1-30 man (what constitute a godly man). I found her views very disturbing and depressing to say the least and all weekend, I found myself wondering about the spiritual state of Black people. Why don't we instinctively know how to be a woman or a man? Shouldn't this be a part of everybody's psyche? The concept is so elementary, and yet it appears we don't know. How very sad for us as black people if this is the level of our consciousness and spirituality. Even the penguins know...
posted by Cynthia Permalink| (5)|


---------------oOo---------------
Sunday, August 14, 2005
When meat is not murder



I've known about this proposed technology for at least a month now. I wonder who will be the first guinea pigs to try this new technology. My guest is "Poor People".



Would you eat steak if it had been grown in a petri dish?

It is the ultimate conundrum for vegetarians who think that meat is murder: a revolution in processed food that will see fresh meat grown from animal cells without a single cow, sheep or pig being killed. More...
posted by Cynthia Permalink| (0)|


---------------oOo---------------

White House Power Grab Puts Public at Risk

The White House submitted a legislative proposal to Congress that would imperil the balance between the executive and legislative branches by concentrating power in the White House free of democratic accountability and would expose long-standing public protections to powerful special interests and industry insiders.

The proposal, the "Government Reorganization and Program Performance Improvement Act of 2005," forces agencies to plead for their lives every ten years before a "sunset commission" and face automatic elimination unless Congress acts to reauthorize them. The White House would also be able to empanel "results commissions" that would propose plans for restructuring government programs, plans that would then be fast-tracked through Congress with very limited time for debate and no option for amendments.

Full Link
posted by Cynthia Permalink| (0)|


---------------oOo---------------
Saturday, August 13, 2005
What/Who Is Fueling A Growing Problem?



Although organizations such as WHO and the International Diabetes Foundation issued a warning about the growing epidemic of diabetes, not only in America but worldwide, major food companies are still lobbying the Bush Administration to defend their interest to promote junk food at the public's expense. According to the latest estimates from the

WHO

, 177 million people worldwide have diabetes and this number is projected to increase to 366 billion by the year 2030. In the US alone, it is estimated that more than 17 million people are already living with diabetes. Now they are saying that

diabetes kills more people

worldwide than AIDS. This is not surprising since the latest information from the CDC if you drudge through their site, estimated that only 18,000 people died in the US from HIV/AIDS, whereas if you look at the

Eggman site

you will see that ~ 1 million have died from cardiovascular disease, which is the leading cause of deaths in the U.S and diabetes is number four. If you extrapolate this information and apply it to the worldwide population along with some data that talks about

the truth behind the HIV/AIDS epidemic, it makes sense that diabetes is a biggest threat to the world's health than HIV. As a result, more lives will be lost to diabetes than HIV/AIDS.



The

Junk Food Nation: Who's to Blame for Childhood Obesity

is an excellent article to show who, what, and how this latest epidemic is being fuelled.



Excerpt:
In recent months the major food companies have been trying hard to convince Americans that they feel the pain of our expanding waistlines, especially when it comes to kids. Kraft announced it would no longer market Oreos to younger children, McDonald's promoted itself as a salad producer and Coca-Cola said it won't advertise to kids under 12. But behind the scenes it's hardball as usual, with the junk food giants pushing the Bush Administration to defend their interests. The recent conflict over what America eats, and the way the government promotes food, is a disturbing example of how in Bush's America corporate interests trump public health, public opinion and plain old common sense.

Continue reading article
posted by Cynthia Permalink| (3)|


---------------oOo---------------
The Birthday Bush Wants To Ignore
It's got to be tough when people ignore your birthday. But it must add insult to injury to have the very same people who are your legal guardians spread rumors about your health and forecast your demise. What to do? I guess call out those gossip-mongers—which I'm happy to do, in the service of Social Security on the eve of its 70th anniversary this Sunday.
posted by Cynthia Permalink| (0)|


---------------oOo---------------

Big Pharma's free ride

Pharmaceutical companies are using free-trade deals like CAFTA to eliminate global competition -- and deny poor patients access to cheaper generic drugs
posted by Cynthia Permalink| (0)|


---------------oOo---------------

Oil industry awash in record levels of cash

While the oil industry is enjoying one of the biggest windfalls in its history, the American people are being gouged with high prices. In Chicago, gas prices have already reached a record high of $2.99 9/10 for premium gasoline.
posted by Cynthia Permalink| (0)|


---------------oOo---------------
Thursday, August 11, 2005
More things not even on the radar



There is too much noise and most us can't even hear or see what is going on.

James Mannings

wrote an excellent piece about things that are not even on the radar.



Excerpt

The following is a list of regulation changes made in the past two years that help the corporate bottom line but will adversely impact the environment or workers.

--- The administration, at the request of lumber and paper companies, gave federal Forest Service managers the right to approve logging in federal forests without the usual environmental reviews.

--- The Mine Safety and Health Administration published a proposed new regulation that would dilute the rules intended to protect coal miners from black-lung disease.

--- The Bush administration dropped a proposed rule that would have required hospitals to install facilities to protect workers against tuberculosis.

--- The Department of Labor, responding to complaints from industry, dropped a rule that required employers to keep a record of employees' ergonomic injuries.

--- The administration's 2004 budget proposed to cut 77 enforcement and related positions from the Occupational Safety and Health Administration

--- Last August the administration relaxed its clean-air rules by allowing thousands of corporations to upgrade their plants without having to install expensive pollution-control equipment.

The changes made are not in the best interest of the public, but the public is distracted with other issues and will not notice the changes until they are implemented and enforced. The Bush administration is not the first to use Federal regulations as a means to bypass Congress. However, this administration uses its power to an extent not seen in the past.
posted by Cynthia Permalink| (2)|


---------------oOo---------------

Mother's Protest at Bush's Doorstep Raises the Stakes

Cindy Sheehan has become the poster child for those who opposes this illegal war of the Bush administration... Will this issue split the American public (Democrats vs. Republicans) as some hypothesizes?

Excerpt:

What started out as a seemingly quixotic personal mission has become something of a phenomenon — with media swarming around Sheehan, leading liberal and antiwar activists parachuting in to try to make her their long-sought voice, and political experts in both parties working to assess what role she may have in galvanizing the public's gathering unhappiness with the increasing American casualties in Iraq.

Antiwar leaders hope that putting the spotlight on Sheehan will motivate Americans who oppose the war, creating a political force strong enough to compel the Bush administration to change course. Full Link
posted by Cynthia Permalink| (2)|


---------------oOo---------------

Oceans Alive Update - August 2005

From Environmental Defense.org

Hot Water Ahead:Global Warming and Oceans Is global warming pushing our oceans to the tipping point?

The oceans are heating up, coral reefs are bleaching, and global warming is the main culprit. Manmade, heat-trapping gases are changing life on land and at sea.

Oceans play a huge role in our climate. In fact, global warming effects are clearer in the oceans than in the atmosphere, since water stores more heat than air. And new scientific studies are setting off alarm bells that our oceans could be reaching a tipping point.

Find out more in our special feature:
1. Why are scientists finding tropical fish in unexpected places?
2. What's the link between melting glaciers and the oceans' food chain?
3. Is the oceans' ability to absorb heat reaching the tipping point?
4. What does global warming have to do with coral reefs bleaching?

What can you do to help?
posted by Cynthia Permalink| (0)|


---------------oOo---------------

The Dumbing Down of Americans Is Well On Its Way!!!

This article is a good case for the separation of The Church and The State. It also shows the danger of religious people controlling education..

No wonder Americans are lagging educationally behind other developed nations.

Excerpt:
The Kansas school system was ridiculed around the country in 1999 when the board deleted most references to evolution. The system later reversed course, but the language favored by the board Tuesday comes from advocates of intelligent design.

Link
posted by Cynthia Permalink| (2)|


---------------oOo---------------

Some things are not even on the radar

Why the US wants to end link between time and sun?


By now we all know that the time it takes the Earth to rotate around its axis is slightly longer than 24 hours. Every so many years, an extra second is added to regulate global time. This second is called a leap second and the last time a second was added was in 1998. Whenever these seconds are added they lead to glitches with the passage of that extra second. Because of this, the U. S. government made a proposal secretly to a United Nations body to simplify the world's timekeeping by making each day last exactly 24 hours. To compensate for the lost of time, the U.S. has proposed that every 500 - 600 years a leaf hour should be added.

When astronomers heard about this proposal (through a leak) they quickly began to organize against the proposal by Bush. They believe it will not be cost effective, since changes would have to be made to telescopes that would cost between $10,000 and $500,000 per facility. In addition, some believe there are inherent dangers or risks associated with this method of timekeeping and could cause a shut down in the traffic-control systems, etc., etc...

It appears Britain isn't too happy about this either, they see this as a threat to its venerable standard, Greenwich Mean Time.

The proposal, if approved, will go into effect in 2007.
posted by Cynthia Permalink| (0)|


---------------oOo---------------
Wednesday, August 10, 2005
Interesting news about the administrations of Bush & Clinton

Bush's economy has created 393,000 new jobs per year, while Clinton's economy created 2.75 million per year. A more detailed analysis can be found at Daily Kos. I've heard that the American people always lose jobs with a Republican government and gain jobs when the Democrats are in charge. At least for these two administrations that statement is correct.
posted by Cynthia Permalink| (0)|


---------------oOo---------------

How good are you at reading emotion?

I found this experiment at Very Small Doses.

The experiment is designed to test whether you can spot the difference between a fake and real smile. The premise behind the research is that most people are not good at distinguishing between fake and real smiles. Although I only got 16 out of 20 right, I'm very good at distinguishing fakeness from genuineness in people. I have to tell you, it feels like a curse at times because the average person is not genuine and it often becomes uncomfortable to maintain the front. J. Marcus got 11 out of 20 right, what about you; can you distinguish between a fake and real smile?
posted by Cynthia Permalink| (2)|


---------------oOo---------------

2005 Black Weblog Award

It's time to vote on your favorite Black Blogger...
posted by Cynthia Permalink| (0)|


---------------oOo---------------
Tuesday, August 09, 2005
Support Cindy

by Congressman John Conyers, Jr.

I know you all agree with me that what Cindy Sheehan is doing in Crawford, Texas is heroic and important. I met Cindy a couple of months ago when she testified at the hearing I called on the Downing Street Minutes. Later that day, she helped me deliver your signatures to the White House demanding answers from the President about his pre-war deceptions. I want to share with you what struck me about that day, and is even more relevant now. I also want to ask you for your help.

It is not that hard for an elected official to take his time and energy and try to demand accountability from a President. It is what I was elected to do and it is my job. For a mother who recently lost her son in a war based on lies to turn her grief and anger into action and courage is a heroic act.

It is also important. The President's defenders want to turn the debate over the war, over life and death, into a typical partisan skirmish. By doing so, they hope the country will divide neatly into a 50/50 split between Democrats and Republicans and the stalemate will continue. What Cindy is doing is taking this out of the realm of partisanship to where it belongs: cold and hard reality.

Continue reading

posted by Cynthia Permalink| (0)|


---------------oOo---------------

Beyond the Voting Rights Act: Why We Need a Constitutional Right to Vote



As thousands of civil rights advocates celebrated the 40th anniversary of the Voting Rights Act (VRA) in Atlanta last weekend, most media coverage conveyed the Act's importance in protecting minorities' political rights. Yet many of those same stories helped perpetuate a dangerous illusion by asserting that a right to vote is guaranteed by the 15th Amendment.

The trouble is the Supreme Court doesn't see it that way.

In its 2000 ruling, Alexander v Mineta, the Court decided the 600,000 or so (mostly black) residents of Washington D.C. have no legal recourse for their complete lack of voting representation in Congress (they have one "representative" in the House who can speak, but cannot vote). The Court affirmed the district court's interpretation that our Constitution "does not protect the right of all citizens to vote, but rather the right of all qualified citizens to vote." And it's state legislatures that wield the power to decide who is "qualified."

As a result, voting is not a right, but a privilege granted or withheld at the discretion of local and state governments.

Yes, our Constitution explicitly prohibits discrimination in granting the franchise based on a person's race, sex, or (adult) age via the 15th, 19th, and 26th Amendments, but those protections are like a house with no foundation. States and other governments can and do disenfranchise individuals and groups of citizens, and so long as they do it without provable bias, it's entirely legal. Link



Maybe this is why Blacks could be disenfranchised in the past two elections and no one was really held accountable, because it is legal.


posted by Cynthia Permalink| (2)|


---------------oOo---------------

Rob on Intelligent Design

Rob has the best post yet that I have seen on Intelligent Design.

Excerpt

The truth is, the controversy over "Intelligent Design" is a wedge strategy devised by a lawyer to encourage the Religious Right to keep public schools in turmoil over the teaching of evolution. It is a statement of faith designed to end debate about origins. The easiest way to discover this is to ask the proponents of "Intelligent Design" to explain how their "theory" can be tested to prove its veracity or falsity and how the theory expands our understanding of nature. If you get an answer, be sure to let me know. I am still waiting to hear one. - Dr. Bruce Prescott, Executive Director of Mainstream Oklahoma Baptists, President of the Oklahoma Chapter of Americans United for Separation of Church and State.
posted by Cynthia Permalink| (0)|


---------------oOo---------------

Chicago Defender's Tribute to the life of John H. Johnson

I have to give praises where they are due. Roland S. Martin, executive director, devoted the entire issue of the Chicago Defender to a tribute of John H. Johnson, founder of Ebony and Jet magazines. This is all I better say especially after our previous exchange.
posted by Cynthia Permalink| (0)|


---------------oOo---------------

Orphan Nagasaki

Like Nagasaki, August 9 is an orphan of history.

And in that history, new, definitive evidence has finally surfaced that the atomic bombing there was completely unjustified.

More than 80,000 human beings perished in Nagasaki three days after at least that many died in Hiroshima. The Bomb that destroyed this historic city was made of plutonium (Hiroshima's was uranium).

Whatever the case for nuking Hiroshima, it was far weaker for Nagasaki.

The US had already shown it had this ultimate weapon. It showed it was willing to use it. And it now had time to wait for the Japanese to gather themselves and surrender, which so many believe they were trying to do.

Link
posted by Cynthia Permalink| (0)|


---------------oOo---------------
Monday, August 08, 2005
The Right Time for An Islamic Reformation
This is an interesting article written by Salman Rushdie, author of the Satanic Verses. It is also interesting to note that Rushdie's life was threatened because of this book. Although many people believe in Christianity, so far I haven't seen anyone threatened because they have interpreted the bible differently than established dogma. I'm guessing this is one of the fundamental things that make some people believe that Islam is fascist and evil since there is no tolerance for translating the Qur'an in any other way than the long standing dogma that have been observed for centuries. And the punishment to do so, is death.
The questions are: 1) Is it necessary for Islam to be reformed the way Martin Luther reformed Christianity? 2) Could a move beyond tradition -- a reform movement, bring the core concepts of Islam into the modern age and combat the jihadist ideologues as Rushide postulates? Islam and reformation in the same sentence, hmm!!! Very interesting indeed...
Excerpt:
What is needed is a move beyond tradition -- nothing less than a reform movement to bring the core concepts of Islam into the modern age, a Muslim Reformation to combat not only the jihadist ideologues but also the dusty, stifling seminaries of the traditionalists, throwing open the windows to let in much-needed fresh air.
It would be good to see governments and community leaders inside the Muslim world as well as outside it throwing their weight behind this idea, because creating and sustaining such a reform movement will require above all a new educational impetus whose results may take a generation to be felt, a new scholarship to replace the literalist diktats and narrow dogmatisms that plague present-day Muslim thinking. It is high time, for starters, that Muslims were able to study the revelation of their religion as an event inside history, not supernaturally above it.
Link
posted by Cynthia Permalink| (5)|


---------------oOo---------------

Ebony, Jet Publisher John H. Johnson Dies

Publisher John H. Johnson, whose Ebony and Jet magazines countered stereotypical coverage of blacks after World War II and turned him into one of the most influential black leaders in America, died Monday, his company said. He was 87.

Johnson died of heart failure at Northwestern Memorial Hospital after a long illness, said LaTrina Blair, promotions manager with Chicago-based Johnson Publishing Co.

Johnson broke new ground by bringing positive portrayals of blacks into a mass-market publication and encouraging corporations to use black models in advertising aimed at black consumers.

"We have lost a legend, a pioneer, a visionary," said Earl G. Graves, publisher of Black Enterprise magazine. "As an American, he was ahead of his time. Ebony is part of Americana now."

Link
posted by Cynthia Permalink| (0)|


---------------oOo---------------

Intelligent Design

Recently, I joined the Progressive Blogger Union and every Monday the members are encouraged to blog about a single topic. This week the topic is Intelligent Design. Regular readers of this blog by now know my position on this subject because I have talked about this a total of seven times. Listed below for anyone who cares to know my opinion again and again and again and then some...

1. May 9th, The Pseudoscience of Intelligent Design
2. May 10th, Intelligent Design or Evolution???
3. June 3rd, Pennsylvania School Board Approves Intelligent Design Curriculum
4. June 5th, Evolution & Creationism
5. June 17th, The Attack on Evolution
6. August 2nd, Bush endorses 'intelligent design'
7. August 6th, From Ape to Man - The Evolution of Evolution

The only thing I would like to add to this subject is this - two years ago a study demonstrated that Chimps share ~ 99.4 per cent of the key DNA sites that code for proteins with humans. Based on those similarities, the researchers say both species belong in the same genus (Homo). This data in my opinion confims that the two species evolved from a common and recent ancestor. In fact, all mammals are closely related. I just read an article that says even mice share at least 60% of their DNA with humans.

Since I have extensively talked about this topic, I would like to present two other fellow bloggers opinions on this topic to spice things up a bit, Ous Cessay and The Church Secretary, who is also a member of PBU. Ous Cessay asked the question - is intelligent design really science? The Church Secretary has a more colorful position about intelligent design even his title is a bit more provocative "OF GOD, APES, AND SLIPPERY SLOPES". Although both believe in a God who created everything, they both question the authority of the government to sanction the teaching in schools.
posted by Cynthia Permalink| (1)|


---------------oOo---------------

FCC Eases Broadband Service Rules

The nation's telephone companies won the right to kick off rival providers of high-speed Internet service from their networks in a move some industry observers fear will limit competition and raise prices for consumers.
posted by Cynthia Permalink| (0)|


---------------oOo---------------
Sunday, August 07, 2005
Congressman Fights for Voting Rights Act

Rep. John Lewis, D-Ga., urged Congress to reauthorize the landmark Voting Rights Act, saying Saturday that failing to do so would imperil 40 years of progress for African-American voters.
posted by Cynthia Permalink| (0)|


---------------oOo---------------
Saturday, August 06, 2005
Grand Old Legacy

Forty years ago today, in a nationally televised ceremony, President Lyndon B. Johnson signed into law the Voting Rights Act. While the immediate effect of the act was the registration of a quarter-million African American voters, more impressive is its enduring legacy: Today there are more than 16 million African American registered voters, 43 black members of Congress and thousands of minorities elected to state and local legislative offices throughout the country. Few pieces of legislation in U.S. history have had such a lasting and positive impact on our civic culture.

Conyers gives a different perspective about the 40th Anniversary of the Voting Rights Act.
posted by Cynthia Permalink| (0)|


---------------oOo---------------

Hiroshima remembers those killed 60 years ago

With prayers, wreaths and emotional calls for the abolition of nuclear weapons, the Japanese city of Hiroshima on Saturday marked the 60th anniversary of the world's first atomic attack.

Hiroshima fell silent as a relative of one of the more than 140 000 dead joined a child in ringing a bell at 8.15am (23h15 GMT on Friday), the exact moment 60 years ago when a single US bomb flattened the southern city.
posted by Cynthia Permalink| (0)|


---------------oOo---------------

Monsanto's Roundup Ready GM crops

GM Watch - As Monsanto's Roundup Ready GM crops encourage an ever increasing application of the herbicide; amphibians continue to decline worldwide...

"The most striking result from the experiments was that a chemical designed to kill plants killed 98 percent of all tadpoles within three weeks and 79 percent of all frogs within one day" - University of Pittsburgh researcher, Rick Relyea

Roundup Ready is lethal even at lower concentrations, a University of Pittsburgh researcher may have found more pieces of the puzzle. Link
posted by Cynthia Permalink| (2)|


---------------oOo---------------

From Ape to Man - The Evolution of Evolution

Premieres August 7th at 9/8C on the History Channel

I guess proponents of ID are probably not happy campers right about now. Here you have a documentary about unraveling the evolution of man. Regardless of what is being said or done, the truth will eventually be revealed.
posted by Cynthia Permalink| (4)|


---------------oOo---------------
Friday, August 05, 2005
Did the GOP steal another Ohio Election?

The Republican Party has -- barely -- snatched another election in Ohio. And once again there are telltale symptoms of the kind of vote theft that put George W. Bush in the White House in 2000 and then kept him there in 2004.

This time an outspoken Iraqi War vet named Paul Hackett led the charge for a Cincinnati-area Congressional seat, earning 48% of the vote. The spot was open because Bush appointed his pal Rep. Rob Portman to be a trade representative.

Hackett is a rarity among today's Democrats---a blunt, hard-driving truth talker who blasted Bush's attack on Iraq. Hackett labeled W. "a chicken hawk." He's the first Iraqi war vet to run for Congress. He made no bones about the incompetence and cynicism that define the GOP strategy there. In particular Hackett attacked Bush's attacks on veterans benefits while claiming patriotic support of the war.

In return, GOP candidate Jean Schmidt lied about Hackett's war record. Unlike John Kerry, Hackett fought back immediately.

Link
posted by Cynthia Permalink| (0)|


---------------oOo---------------

Federal Whistle Blower Claims Chicago Grand Jury Indicted Bush And Others For Perjury and Obstruction Of Justice;

Cheryl Burton while co-hosting the Cliff Kelly show said the news media always had so much dirt on Daley and they feared that if they brought out too much at one time, the people would become numb to it, but now we have dirt coming out left and right. Recently we've been privy to some vicious infighting with the father-in-law of our Governor. So, if this is true this is an interesting development in the politics of Chicago & Illinois...

Cyrus just posted and article to illustrate the magnitude of the corrupt policticking going on in Illinois.

U.S. Attorney's Office Says 'No Comment,' Refusing To Confirm Or Deny Alleged Indictments

Special Prosecutor Patrick Fitzgerald's investigation into the Valerie Plame-CIA leak has now spilled over into Bush administration lies involving 9/11 and the war in Iraq, according to sources close to the Chicago probe.August 2, 2005
By Greg Szymanski

Sources close to the Chicago federal grand jury probe into perjury and obstruction charges against President Bush and others said indictments were handed down this week, but a spokesman for the U.S. Attorney's Office of the Northern District of Illinois refused to comment.

Link
posted by Cynthia Permalink| (0)|


---------------oOo---------------
London Underground Bombing 'Exercises' Took Place at Same Time as Real Attack
posted by Cynthia Permalink| (0)|


---------------oOo---------------

Interesting Quote

"Those who want the Government to regulate matters of the mind and spirit are like men who are so afraid of being murdered that they commit suicide to avoid assassination."

President Harry S. Truman
posted by Cynthia Permalink| (0)|


---------------oOo---------------
Thursday, August 04, 2005
The State Of Surveillance

Artificial noses that sniff explosives, cameras that I.D. you by your ears, chips that analyze the halo of heat you emit. More scrutiny lies ahead.

Britain has 4 million video cameras monitoring streets, parks, and government buildings, more than any other country. London alone has 500,000 cameras watching for signs of illicit activity. Studying camera footage helped link the July 7 bombings with four men -- but only after the fact. The disaster drove home some painful reminders: Fanatics bent on suicide aren't fazed by cameras. And even if they are known terrorists, most video surveillance software won't pick them out anyway. Link



Then they should turn the camera back in and get their money back and do something more effective with the money. Why waste all of this money on something that doesn't work anyway? Who are they trying to kid?


posted by Cynthia Permalink| (1)|


---------------oOo---------------

Collapse of Antarctic ice shelf could have global effects

The unprecedented collapse of an ice-shelf in Antarctica could indirectly lead to a significant rise in global sea levels, researchers say. The Larsen B ice shelf covered more than 3,000 square kilometres and was 200 metres thick until its northern part disintegrated in the 1990s. Three years ago, the central part also broke up.

Link

I wonder if the melting of this ice-shelf is going to have an effect on the salinity of those southern oceans and lead to a change in the climate, since these things are connected..
posted by Cynthia Permalink| (0)|


---------------oOo---------------

Iraq's Child Prisoners

A Sunday Herald investigation has discovered that coalition forces are holding more than 100 children in jails such as Abu Ghraib. Witnesses claim that the detainees – some as young as 10 – are also being subjected to rape and torture...

posted by Cynthia Permalink| (0)|


---------------oOo---------------

South Koreans clone dog

NEWS WIRES have gone nuts in May after a Korean boffin told Nature magazine he's managed to clone a dog.

Many of the wires are describing copying doggies as a breakthrough for the pet cloning market, so that when your favourite animal dies you can rest assured it will rise from the grave.
posted by Cynthia Permalink| (1)|


---------------oOo---------------
Wednesday, August 03, 2005
D.C. Pastor Again Assails Lesbianism

I purposefully stayed away from this topic the first time it surfaced, but it is a story that probably will never die since homosexuality is rampant in the black community. Black people are up in arms about what the Good old Rev said about lesbianism in a Sunday morning service. People are now calling him a homophobe. Some are saying that the pulpit isn't a place to discuss this issue. Anybody that knows anything about black people, if you want to discuss something, just go to the church you will have a full audience. Therefore, this was the best place to talk about this subject. We are the prayingness people I've ever seen.

This topic is super sensitive in the black community; look at what the NewBlackMan had to say on this issue. Professor Kim also thought the sermon was newsworthy. If you discuss this in any other way besides giving accolades to gays, you are automatically labeled a homophobe even if you genuinely believe there are other factors contributing to this phenomenon. I'm among the few who will unapologetically admit that the Black community is experiencing not only an epidemic of lesbianism, but and epidemic of homosexuality period. I've already extensively discussed this topic and possible causes for this epidemic here and here. I think I need to send The Good Ole Rev a copy of what I wrote. It appears some people think the rights of homosexuals supersede the rights of children to grow up in a healthy and safe environment.

Excerpt:

The Reverend Willie Wilson - who apologized last week for some harsh comments he made about lesbians during a sermon - is speaking out on the issue again.

The Washington Post reports Wilson writes in a new posting on his church Web site he's deeply concerned about an "epidemic" of lesbianism among young black girls, calling it a "severe crisis" that threatens "the very survival of the Black family." Wilson goes on to say the "situation is so grave that it should be declared a national emergency."

In the Web posting, Wilson apologizes to "any and all" he offended with the July 3rd sermon but says he doesn't apologize for brining the issue to the forefront.

Full
posted by Cynthia Permalink| (3)|


---------------oOo---------------

Media Flagstones along a Path to War on Iran

On Tuesday, big alarm bells went off in the national media echo chamber, and major US news outlets showed that they knew the drill. Iran's nuclear activities were pernicious, most of all, because people in high places in Washington said so.

It didn't seem to matter much that just that morning the Washington Post reported: "A major US intelligence review has projected that Iran is about a decade away from manufacturing the key ingredient for a nuclear weapon, roughly doubling the previous estimate of five years, according to government sources with firsthand knowledge of the new analysis.
posted by Cynthia Permalink| (0)|


---------------oOo---------------

Bush Makes Second Recess Appointment

President Bush again invoked a constitutional provision enabling him to bypass the Senate and install directly a nominee who had been blocked in the Senate. This time, he named Peter Flory to be an assistant secretary of defense.
posted by Cynthia Permalink| (0)|


---------------oOo---------------

Information leading to the Invastion of Iraq

From AfterDowningStreet.org

Timelines
One, Two, Three
posted by Cynthia Permalink| (0)|


---------------oOo---------------
Tuesday, August 02, 2005
Tancredo: "Stupid, Brazen, and Uncivilized" - By James J. Zogby

By even suggesting that Mecca could be bombed in retaliation for a terrorist attack, Congressman Tom Tancredo (R-CO) has made the world a more dangerous place. He is not alone, of course. Ironically, the Congressman has plenty of company among those who, either because of the evil they do or the stupid things they say, have endangered us all.

Now, before I am attacked for establishing a moral equivalence between terrorist bombers and unthinking macho politicos, let me be clear: I know the difference. The sick malevolence that led to 9/11 (US), 7/7 (UK), and 7/23 (Egypt) is dramatically and immediately "More Evil" than the lies that led the US and UK into Iraq or the hate-filled incitement practiced by religious extremists of all stripes. Link

I don't think the above statement is correct. The West has a habit of setting people up only to blame them if they react to protect themselves in the only way they know how. Desperate people have always taken desperate measures. I think if a comparison is made, we must look at the totality of the damage inflicted in each situation. The lies that led to the war on Iraq caused more damage to property and a lost of lives (US soldiers and Iraqi) than what occurred in the other incidences. Moreover, isn't it just common sense to think that if people are unjustly attacked, they will respond in the only way they can. I know some people think that Islam is evil and should be dealt with by any means necessary. But, isn't there a commandment given by the Christian God to Christians that says, "Thou shall not bear false witness," indicating that there will be a reaction to the said lies. The evil started with the US. Doesn't this count for something?
posted by Cynthia Permalink| (0)|


---------------oOo---------------