Friday, July 01, 2005
R&B Crooner Luther Vandross Dies at 54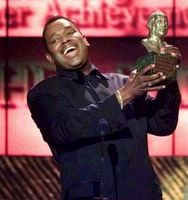 NEW YORK - Grammy award winner
Luther Vandross
, whose deep, lush voice on such hits as "Here and Now" and "Any Love" sold more than 25 million albums while providing the romantic backdrop for millions of couples worldwide, died Friday. He was 54.
Vandross died at John F. Kennedy Medical Center in Edison, N.J., said hospital spokesman Rob Cavanaugh. He did not release the cause of death but said in a statement that Vandross "never really recovered from" a stroke two years ago.
Since the stroke in his Manhattan home on April 16, 2003, the R&B crooner stopped making public appearances — but amazingly managed to continue his recording career. In 2004, he captured four
Grammys
as a sentimental favorite, including best song for the bittersweet "Dance With My Father."
Vandross, who was still in a wheelchair at the time, delivered a videotaped thank you. "Remember, when I say goodbye it's never for long," said a weak-looking Vandross. "Because" — he broke into his familiar hit — "I believe in the power of love."
Vandross also battled weight problems for years while suffering from diabetes and hypertension.
He was arguably the most celebrated R&B balladeer of his generation. He made women swoon with his silky yet forceful tenor, which he often revved up like a motor engine before reaching his beautiful crescendos.
Luther Vandross -
Live at Radio City Music Hall, 2003
May his soul rest in peace.
posted by Cynthia Permalink| (1)|


---------------oOo---------------